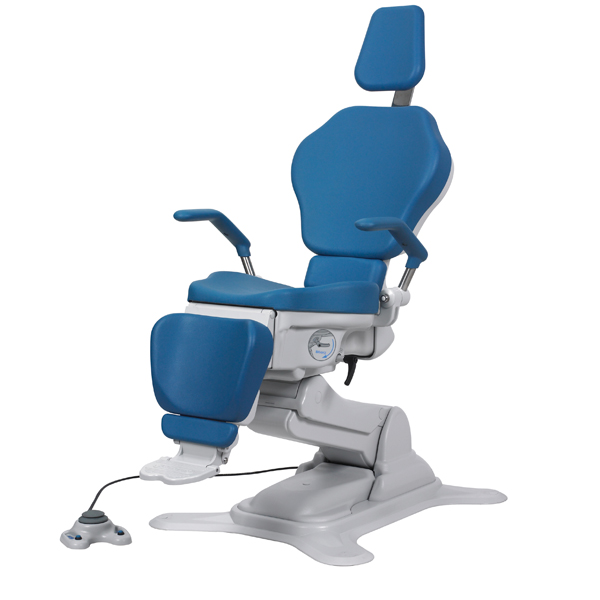 OP-S8
1 September, 2015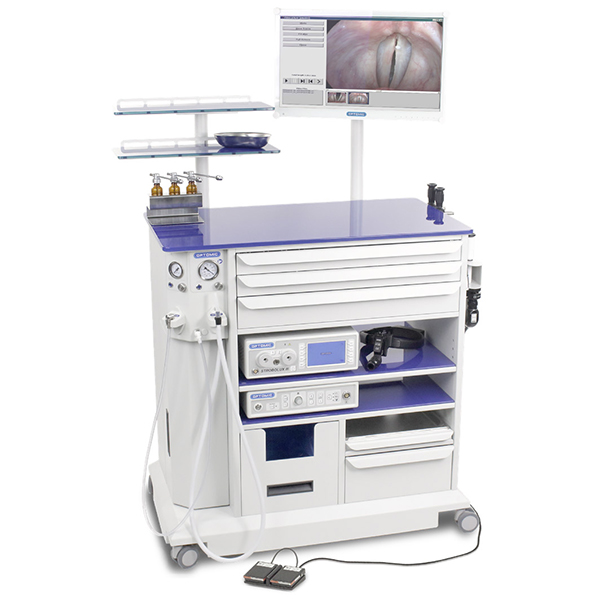 OTOSMART PLUS & OTOSMART
3 September, 2015
OP-S10
OPTOMIC's OP-S10 ENT chair have been designed by ENT specialists for ENT specialists. Doctors from all over the world have provided their knowledge and experience for the design of these chairs.
One of the main ergonomic advantages of this chair is the possibility it offers the specialist, due to its well studied design, of easily and comfortably reaching every area of the patient that requires examination. OPTOMIC has developed a chair designed for the comfort of both patient and doctor.
If you would like to find out more about OPTOMIC chairs click here
Description
Technical specifications of OP-S10 ENT chair
| | |
| --- | --- |
| Up / Down Movements | Electrical |
| Backrest and Legrest Movement | Electrical |
| Programmable Memories | 6 memories (4 programmable + 80º Position + Trendelenburg) |
| Movement Control | 4 keyboards and (foot pedal optional) |
| Safety Blocking | Stop and safety in a single key |
| Emergency Stop | E-stop button |
| Back |  Abatible |
| Upholstery | PUR melting, no seams, latex free, washable (available in several colours) |
| Armrest | Folding armrests |
| Headrest | Variable height and inclination.Removable Adjustable headrest optional |
| Chair Rotation | 270º with mechanical buffers and electromagnetic brake |
| Tredelenburg Position | Pre-programmed movement |
| 80º Nasal Examination Position | Pre-programmed movement |
| Sliding Backrest | Synchronized with movement |
| Connection between Powerbox and Chair | 21V, 33V, video and communication signal |
| Maximum Power (without External Devices) | 400VA |
| Backrest Angle | From 80º to 190º |
| Seating Heights | Max. 910 mm – Min. 530mm |
| Base Dimensions | 600 (w) x 730 (h) |
| Maximum Load | 200kg |
Benefits:
One of the greatest advantages of the OP-S10 ENT chair is its design, which allows the specialist comfortably reach all areas of the patient.
OPTOMIC has developed this ENT chair "designed for the comfort of the doctor and the comfort of the patient". Our philosophy is based on patient and doctor comfort, to work safely in any position, avoiding uncomfortable postures and unnecessary fatigue.
Also, the high quality of its mechanisms sets it apart from other ENT chairs on the market, since high-precision, where the best materials and components have been integrated. Proof of this are its high-resistance tapered roller bearings, its three self-lubricated bushings, which provide unmatched smoothness of movement.
Finally, the linear bearings for axial slides and its high-quality Danish motors or its excellent electronics for different programs and functions, make the OP-S10 stand out as a high-end chair.
Ergonomics
Rotation and electromagnetic brake: allows the patient to rotate safely and smoothly thanks to its robust, high-resistance conical rollers
Precise system: controlled by a processor that allows it to be placed in any of the positions for ENT examination, and with customization for each user
Control of all functions: by means of four controls at each end of the chair, you will be able to access its memories and external maneuvers
Backrest displacement system: by linear guides, the ENT chair moves up and down automatically, preventing contact between the headboard and the patient's head from being lost when he reclines. It also protects the lower back and avoids displacing the patient's clothing at the waist
Narrow-sized footrest and calf pad: prevents bumps and excessively spreading the doctor's legs, allowing the patient to approach the patient in a facing position and observe with ease
Concavity between seat and backrest: facilitates the doctor's position when sitting next to the patient
Folding armrest: with stainless steel axis, it folds down for greater comfort in observations and lateral practices
If you want to find out more about OPTOMIC's ENT chairs click here
Accesories
| | |
| --- | --- |
| Adjustable headrest | 100mm radius depth and height adjustment |