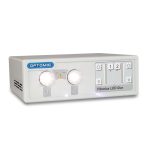 Fibrolux LED DUO
13 November, 2017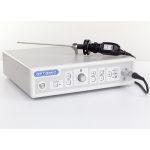 OP-2000 HD endoscopy camera
13 November, 2019
OP-MV22-MD FHD Medical Monitor
The OP-MV22-MD FHD medical grade monitor is the ideal device to complete the OPTOMIC equipment setup.
This Full HD monitor provides a very detailed high definition image and great colour fidelity, an essential condition for any medical application. This image sharpness is very useful to diagnose patients quickly and helps the specialist make precise interventions.
The OP-MV22-MD FHD comes with a wide range of ports to connect all kinds of equipment such as endoscopic cameras, computers or video recorders.
Description
LCD Full HD 22"
• LED-backlight technology with Full HD 1920 x 1080 / 60Hz resolution / 16,7 Million colours
• LCD Type
22˝ Diagonal AM-TFT(Active-Matrix)
Pixel pitch(mm): 0.24825(H) x 0.24825(V)
Brightness: 250cd/m²
Contrast ratio: 1000:1
Viewing angle: 170°/160°(H/V)
Response time: 5ms (on/off)
• Frequency
Horizontal: 31~80kHz
Vertical: 56~75Hz
• Input Signal
HDMI (High Definition Multimedia Interface)
VIDEO (1x input 1.0Vp-p, 75Ω terminated, 1x loop-through out)
DVI (Digital Video Interface)
VGA (RGB-PC)
3G/HD/SD-SDI (BNC, 75ohm, 1x input / 1x loop-through out)
• Non-hazardous, toxic free, lead free components
• Dimensions: 515 x 310 x 50 mm
• Weight: 5,5Kg
• Electrical Ratings: 100-240V~, 50/60Hz
• Power Consumption: ON: <21,6W OFF: <1W